BOOT CLUB FOR YOUTH SKIERS AND BOARDERS
Popular Styles From Brands You Trust
From the age of three to about fifteen years old, your child's feet will grow faster than you can keep up with. Speaking from experience, we know that buying a pair of ski boots every time your child's feet grow can really add up! At Fire on the Mountain, we have a passion for ski sports and believe anyone who wants to enjoy the sport should have the opportunity to have durable and stylish gear. Fire on the Mountain developed their Boot Club with the goal of saving families money and making it easier to share their love of the slopes with the younger generations. The Boot Club has a large selection of new and used youth boots that you can lease out on a seasonal basis. We are requiring appointments for Boot Club leasing which allows us to give you the best level of service!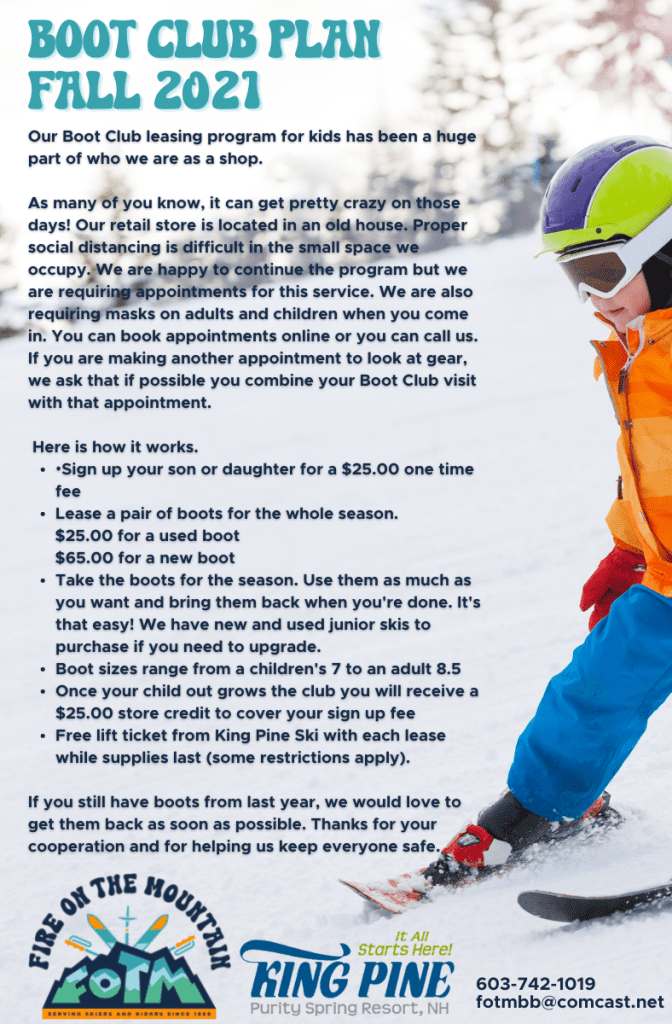 please book your appointment using this calendar
Now that you've set up an appointment to join our Boot Club, take a peek at our line of award-winning brands in ski sports. You're sure to enjoy gliding thru the countryside on your Altai Hok skis, or whizzing down the trail on some new skis from brands like Blizzard, K2, Volkl, Rossignol and Salomon.  Explore our entire ski selection here!
FREE SHIPPING ON ORDERS OVER $100
ONLY APPLICABLE FOR ORDERS DELIVERED WITHIN THE CONTINENTAL US
Every Boot Club lease comes with a free junior lift ticket!
Fire on the Mountain Saving You Money in Multiple Ways
Finding cost effective options for youths who love to get out on the mountain is something we take pride in. Saving you money with Boot Club is just the beginning! We also have new and used gear. Perfect for growing kids!


Looking to Get Your Skis or Snowboard Ready for the Season?
Fire on the Mountain operates a full-service maintenance and repair shop. We can handle your tough fix. Our team of dedicated individuals is here to protect your investment. See how we can help service your gear, here.
Protect Yourself and Your Gear
We've all been there, only an hour into a full day on the mountain and you've already adjusted your goggles 10 times. You're thirsty but unwilling to carry a water bottle with you all day. As skiers and snowboarders ourselves, Fire On The Mountain knows which accessories to go with for your next trip. Browse the Accessory Shop at Fire on the Mountain for the latest in winter sports conveniences! Click the link to visit.


Stay Up-to-Date with Fire On The Mountain
Being a family oriented team means more than just offering products for the whole family. We enjoy getting out and involving ourselves with the community. Making connections through skiing and snowboarding is our favorite part of the job. Follow our social media to stay current on all local events, and see some of the hot topics in the world of winter sports on our Happenings page at Fire on the Mountain.
Our Story at Fire on the Mountain
Opening our doors in 1989, Fire On The Mountain has been around for a while. Our story is one for the books, growing from a single retail location to a nationwide distributor of high-end ski/snow gear. From humble beginnings, we have earned the trust of endless families to become their one-stop-shop for winter sports. It will only take a moment for you, too to understand why Fire on the Mountain. Visit our page, here!